Yesterday we took a day trip that will forever be imprinted on my heart. We went in a van on a 3 hour trip with 2 other families to PuYang City Social Welfare Institute.  This is the orphanage that Hannah was in for the first 2 months after she was found, and was also in for the past 2 months.  The day we met Hannah, we found out that she had been moved from the Lily Orphan Care Center that she had been in in LuoHe, and back to PuYang to prepare for her adoption.
We were greeted with a very warm welcome from the orphanage director, and many of the women who work in the orphanage.  They were taking pictures of us, and seemed genuinely thrilled to see us.  We found out this was only the 3rd time that families had come back to visit the orphanage.  Hannah seemed fine being back there, but would not let anyone take her out of my arms.  I took that as a good sign that the attachment process is going well.  It was a pretty wonderful feeling to have her choose me.  We chose her a long time ago, but she has only had a few days with me. 🙂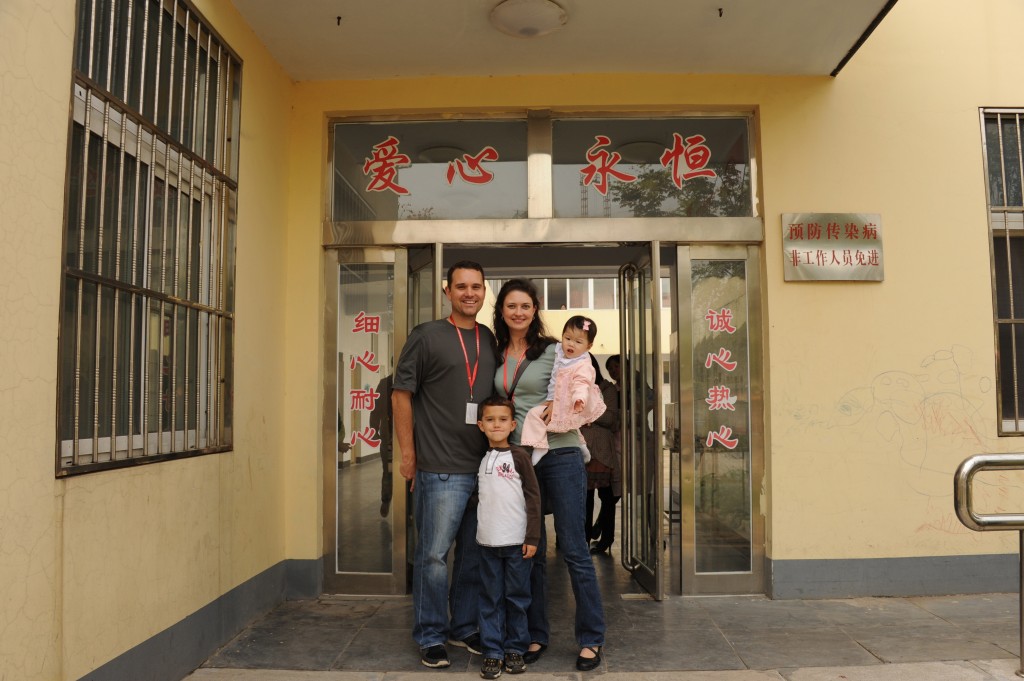 They gave us a short tour of the orphanage, but asked us not to take very many pictures. We walked into a big open courtyard that was surrounded on all four sides with a 2 storied building.  There were many doors around the perimeter of each floor, each with plastic hanging pieces instead of doors. They led us to the door of the room that Hannah had been living in.  It was 2 small rooms that were attached, one with 3 metal cribs, and one with 1 metal crib and an adult bed.  They told us that they divided the children into "families".  There was a "Mama" in Hannah's house, with the 4 small children.  They referred to the other workers in the orphanage as "ayi", or "aunt".  Hannah's Mama seemed very happy to see her, but laughed when she only wanted to stay with me.  She showed us that Hannah's bed was the one that was in her room, and when we put Hannah in it, she got a huge smile and began playing for her audience.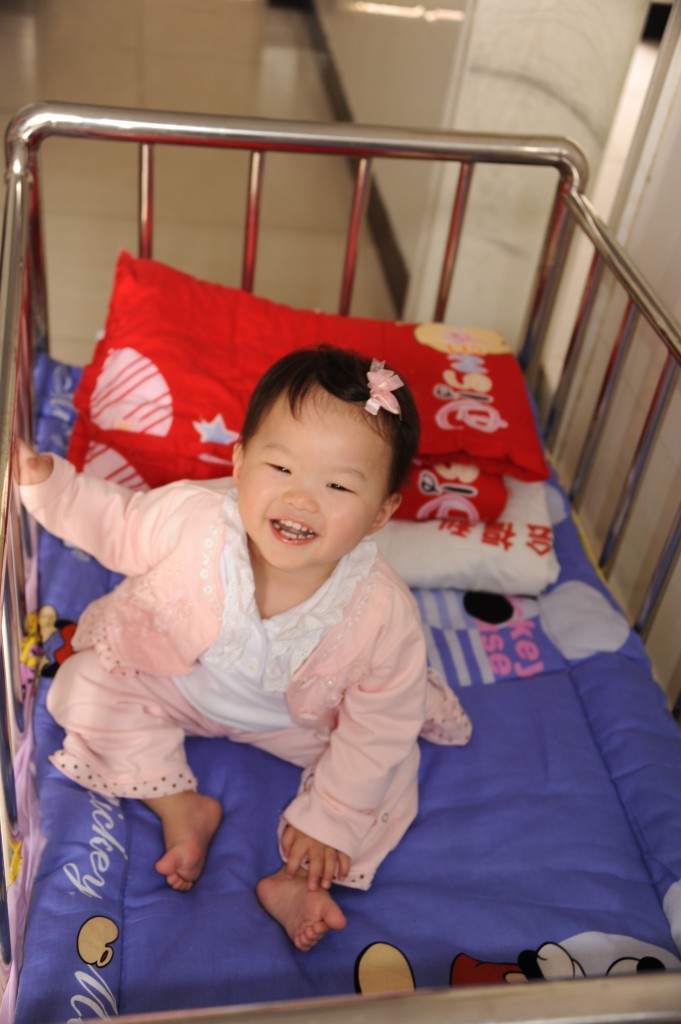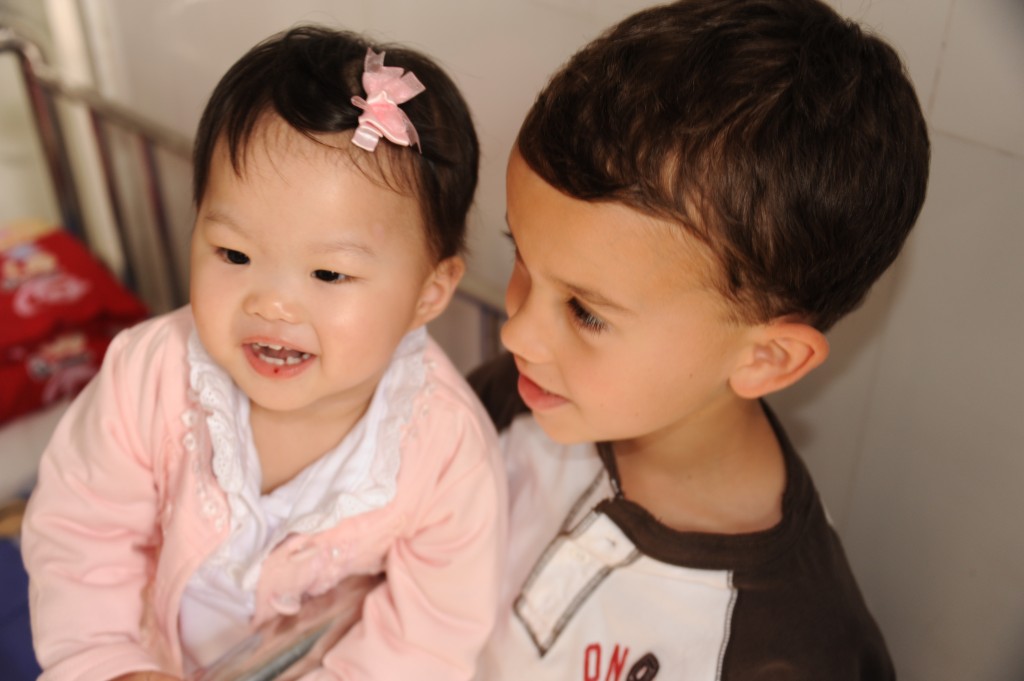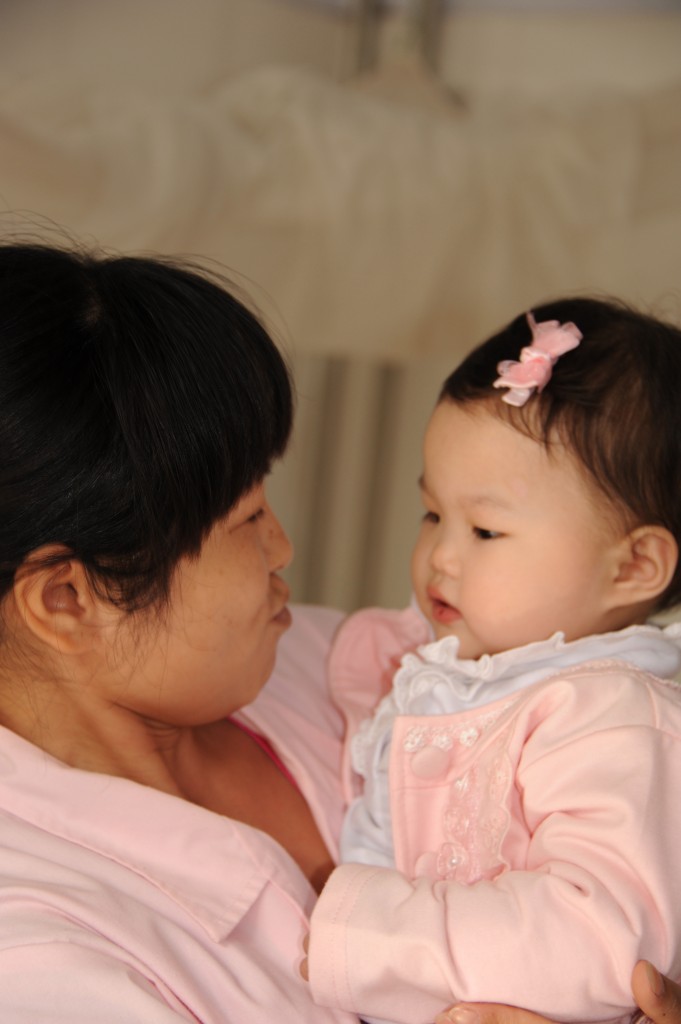 We also saw a small classroom for the older children where they were having class.  This seemed to consist of a group of varying age children who had a handful of toys on a table, that were clearly meant for preschoolers.  They were very happy to see us though, and were excited to sing us several songs.
We then saw a small physical therapy room, where a woman was working with 2 children with some of the equipment.  It was the most colorful and well equipped room that we saw.  This orphanage was obviously a place with very little means, but they clearly loved the kids, and did everything they could for them.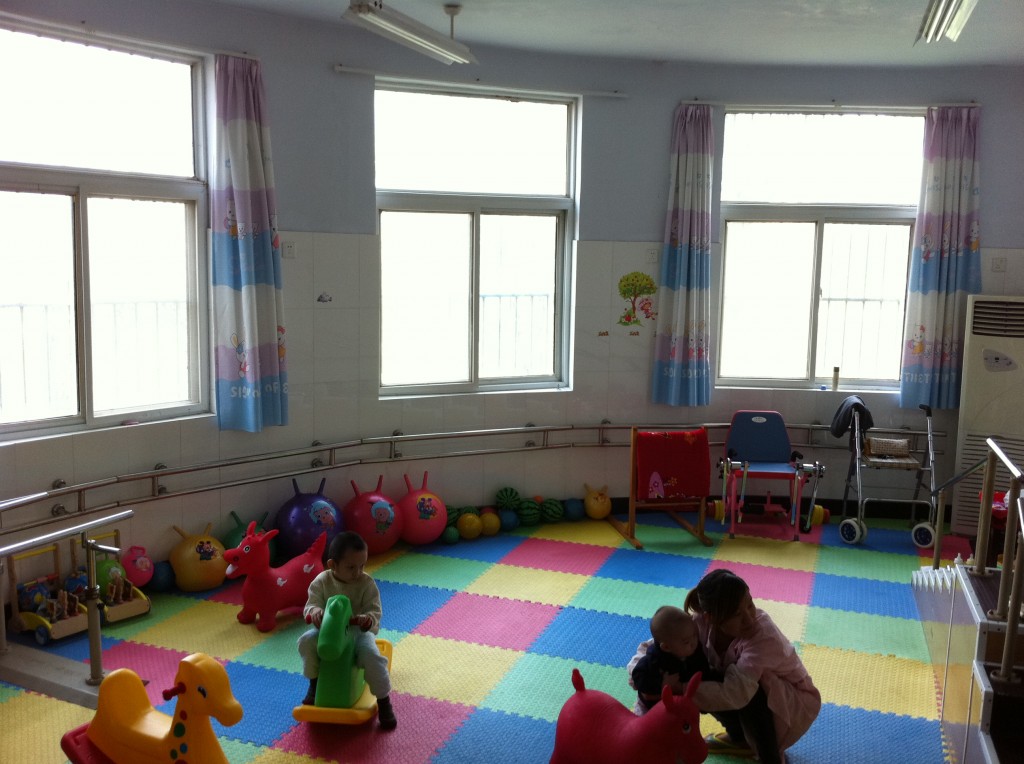 After our tour, the orphanage director treated us to a wonderful lunch in a local restaurant.  Actually, feast was more like it.  There were SO many different kinds of wonderful, authentic, Chinese food.  Some things were easily identified, and some things we had to ask about.  We really enjoyed  some steamed buns with pork and vegetables, roasted chicken, spicy mushrooms and green beans, deep fried sweetened eggplant, and some sort of clear noodles.  We decided to pass on the donkey meat.  It was such a special opportunity to be dining with this wonderful man.  No one at the orphanage spoke any English, so we were so fortunate to have a Chinese speaking father with our group, who was able to translate for all of us.
After lunch, we drove to the "finding spot" for Hannah and our friend's baby.  It was a really emotional experience to me to be standing where my sweet girl was left by her birth mother on the side of the road.  Many people feel like this part of an adopted child's story belongs to them, and will not publicly share it.  I absolutely respect and understand that viewpoint, but after some discussion, we have decided that we will tell about this part of our journey.  The first reason is because I know so many people have been supporting us and praying for us for so long, and I think it will give you a more full picture of Hannah.  The other reason is because I am truly hoping that someone out there following my blog will be led down this adoption path too.  I'm hoping that you can see these pictures and imagine a precious child being left there.  I'm hoping that you understand that  Hannah's story is so far from unique.  It is very much the same as countless thousands of other children.  There are so many children that need homes.  So so many.
Hannah was left when she was about 2 months old.  We weren't sure the exact spot, but we knew that she was left under a tree at the opening of this small village, which must be down this road.  The dear women from the orphanage did everything that they could to get us all of the information possible, but we will have to be content with the general area.  They were able to tell us that she was left with 2 bottles, a large one and a small one, and a few diapers.  They said that  when she was brought to the orphanage, her mouth and fingers were blueish, which let them know immediately that she had something wrong with her heart.  This very well could be the reason that Hannah's birth family was not able to keep her.  They most likely did not have the funds to give her the care that she needed.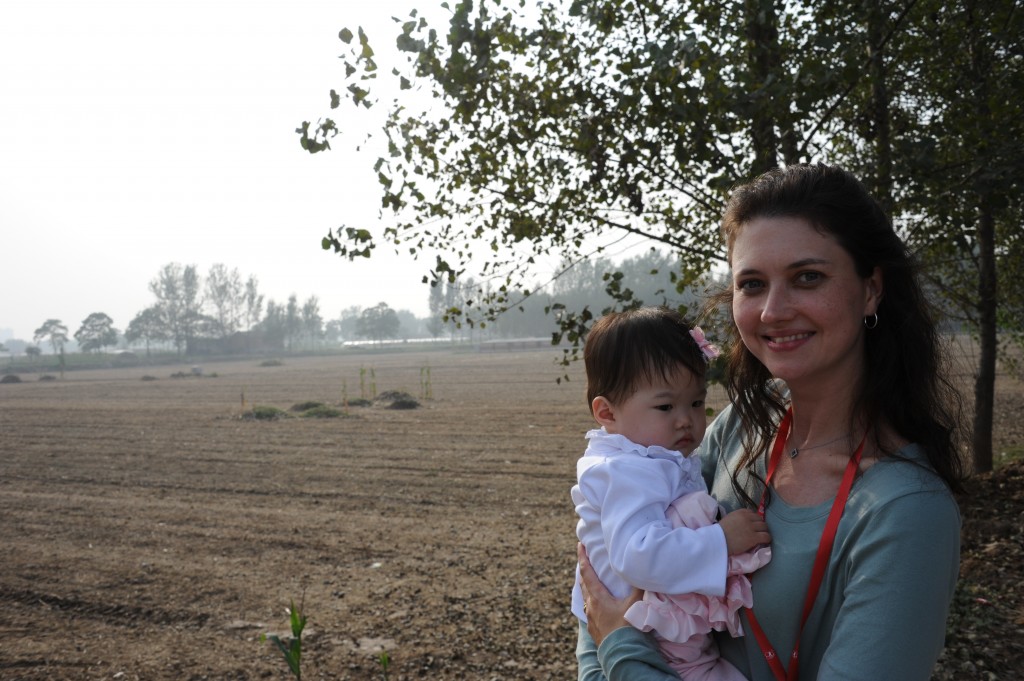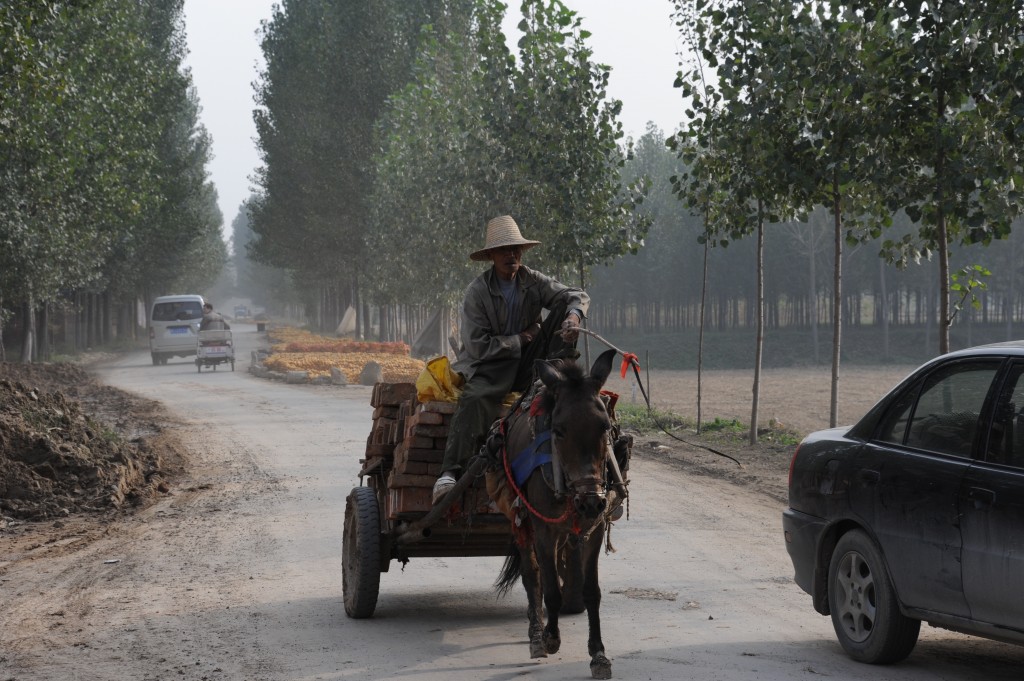 It was a truly incredible day.  I feel so fortunate that we will be able to give Hannah even these precious little pieces of her history.