Today Hannah and Drew started school.  I really didn't know how Hannah would react.  She is generally a very go-with-the-flow kind of girl, so I hoped that she would be okay, but this is very different than anything that she has done before.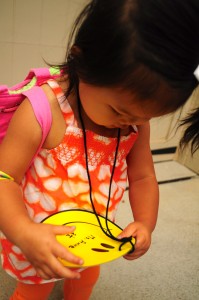 I shouldn't have worried.  This girl was SO excited that I could barely get a picture of her.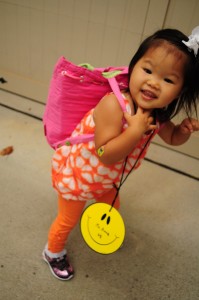 She was literally jumping up and down trying to run to get into the car.
Look at her sweet little Dora shoes, as she stood on her toes to see out of the window as we were waiting in the carpool line.
When it was her turn she said, "Bye Mommy, Bye K.  Love you so much".  And then she happily got out of the car and was off for her first ever day of school.  Oh my heart.  This was the first time I haven't had a child crying for this experience, which means it was also the first time that I was able to leave my child without crying.  It was nice. 🙂
It was also D's first day of kindergarten.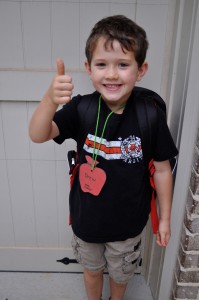 This guy is usually pretty brave, but he was nervous today.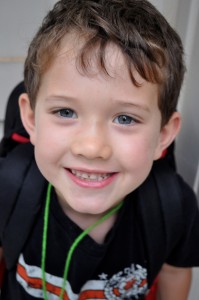 In the car he asked me what would happen if he couldn't remember his teachers' names.  Aww.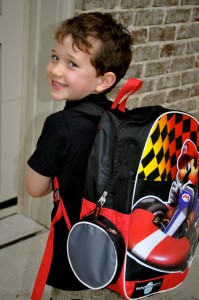 He was also nervous because he doesn't know how to read.  He did not seem convinced by my insistance that most kids don't know how to read on the day that they start kindergarten. Still, when we got there, he was all smiles.  I'm sure he will do great.
House sure is quiet though.  K starts school tomorrow.  We might have some tears then…