Overall we have had a quiet week here in the hospital. Kai definitely has his ups and downs. He has times of being in pain, and times of being frustrated and wanting to go home. We are both missing the rest of our crew at home.
He also has times that he is really feeling okay. Actually with everything that he has been through, and the number of stitches that he has right now, I think he is doing GREAT. I think if I were in his position, I wouldn't want to move. This poor kid has not actually had real food in a week! (And still more days to go). That would be enough to make me super cranky, but he mostly just sweetly asks if he is allowed to eat today, and accepts it when I tell him "not yet."
Jeff had to leave on Wednesday, so that he could go home to be with the rest of the kids. We were SO sad to tell him goodbye.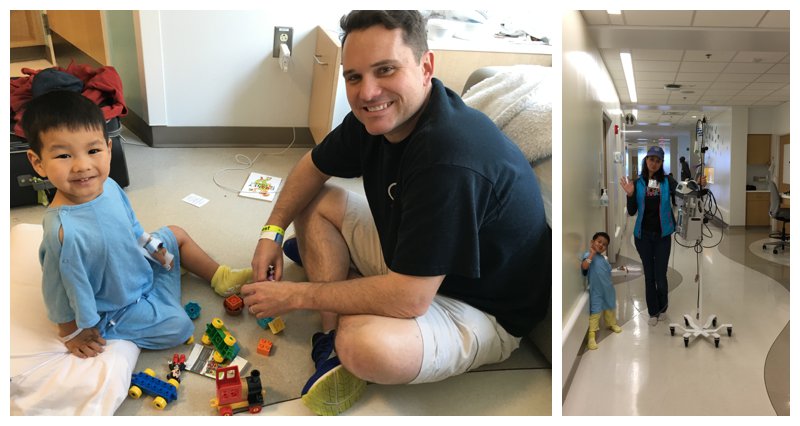 Starting yesterday we were allowed to leave our unit and go to a playroom on our floor. Just leaving our room was so nice, and Kai had a great time. We even went to a music class. Kai was not impressed.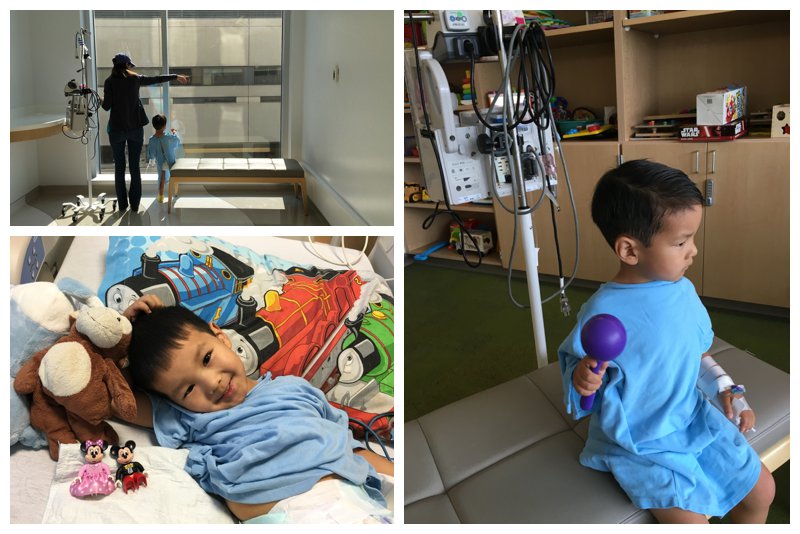 I, on the other hand, have been incredibly impressed with everyone at this hospital. I feel so good about the decision to travel for his care. They have even been sensitive to the extra issues that could arise due to his being adopted.
Luckily there has been a steady stream of adoptive moms who have traveled here before me that have helped to pave the road. I cannot explain how much it means to hear a nurse ask me relevant questions about his adoption, his connection, and his emotional needs. Even in the waiting room during his operation they were sure to come to me to say that they would be sure to get me to him as quickly as possible when he was taken to recovery. Sure, all kids need that, and all parents want to be with their children as soon as possible, but what they were expressing was an awareness that some of these emotions are more acute in adopted children. Birth children, in general, just have an innate sense that their parents will always be there to care for them, and if separated they believe that it is temporary. Adopted children with a traumatic past just don't have this innate sense. As much as we can love an reassure them, they don't have the security that their life is safe and permanent. They already have life experience teaching them that it isn't.
There is no question that this has been a traumatic experience for Kai. He still cries with fear almost every time the nurse comes in the room (which is frequently). He still looks at me with disappointment crying, "They are going to hurt me. Why are you letting them hurt me??" It is heartbreaking.
But what he is seeing is that I will be there with him through hard things. I will be there to kiss him and hold his hand. And the more times he can experience that, the more his heart can heal. That, after all, continues to be the most important healing he will ever need to do.