The other night D turned to me and said, "Are you on Facebook?".  This guy is 4!! I had to answer with, "Why yes I am.  Are YOU?!"
The next day I open my facebook and see this: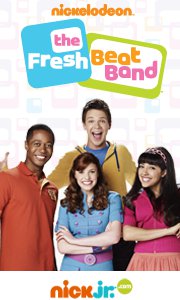 Now, I have nothing against the "Fresh Beat Band", but I don't really want to claim to be a fan to all of my family and friends.  I started to wonder if I had been hacked by some 9 year old when I remembered that D was recently playing some games on NickJr.com. I guess that he somehow found a way to like this on my facebook.
He is apparently taking an early interest in social media.  Those of you who know my husband understand why this is making him so proud. 🙂
Today in the car Z says to D, "If you grow up and marry Lindsey (D's special girl :)), you can live with me."  I was thinking about what a sweet big brother he is to be thinking that he would want his little brother to live with him forever.  I say, "Z, it is so nice that you want D to live with you when you grow up."  After a pause he said, "Yes.  That way when I'm an entrepreneur, they can take care of my kids."
HA!  I had to burst out laughing.  His dad definitely has him making his plans early.  Maybe he has been reading Z his blog at bedtime?
He is getting some things from me too though.  The kids that he is talking about are the 6 kids that he wants to adopt from China. 🙂