Okay I am almost embarrassed to be publishing this in February, but it is what it is.  Maybe some of our Christmas memories can bring you some February holiday cheer. 🙂
Definitely one of the highlights of the holiday season was the church Christmas pageant.  This year both of the boys were old enough to participate, and I was so excited that they were both going to be sheep, and their cousins were both going to be angels.  Too cute.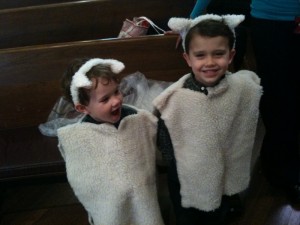 So, first we have rehearsal.  The little guy is everywhere but where he is supposed to be.
So, at this point I am pretty worried about the actual pageant, on Christmas Eve.
Christmas Eve comes.  On the way to church, we see this billboard.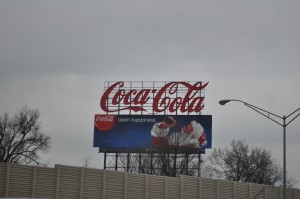 I'm sure this looks familiar.  It is, after all, kind of a Christmas icon.  Anyway, Z yells, "Hey, why is Santa drinking that wine??".
Well, Santa could have used some wine by the end of this night.  We got to church in time for the pageant, and got in our seats.  Z was sitting nicely with the shepherds and sheep ready to do his part, but little D immediately said that he was NOT going to do it.  When it came time for their part, he luckily changed his mind, and dutifully followed his big brother down to the front of the church.  At first we were all pleasantly surprised that both boys seemed to be doing what they were supposed to.
Then came a period of sitting 'quietly' for the shepherds and sheep while the bigger roles were speaking.  We see D look at his big brother, take off his sheep ears, and put them on him, so Z had 2 sets of ears.  Z did not like this at all.  Somehow within seconds the sheep were wrestling!  It definitely started with my 2, but the other 3 sheep thought this looked like a good idea.  I tried to sneak down and quiet the chaos, but it didn't do much good.
I am hopeful that the other parents were so busy watching their own little angels that they didn't realize where the chaos began.  We all at least got a good laugh out of it.  One woman came up to me afterwards and said, "hey, that is why they call it the barnyard service".  I hadn't heard that before, but I guess our little sheep were keeping it real.