As we were trying to figure out where to go on our summer trip this year, Instagram happened to sent us a picture of an amazingly beautiful town. We had been up and down and back and forth about different options, and we saw that photo and said, "let's just go there!" That is how we ended up going to a small town in France that we had never heard of before- Annecy.
Turns out it was a fantastic choice. We are loving our time in this absolutely gorgeous spot!
We are staying in a perfect flat on the top floor of this old building in the "Old Town" section of Annecy. Well, it is perfect minus the four story spiral staircase to get up there. That was quite a challenge with 7 people's luggage.
The first day we were here we went exploring to find the local park, and this was the vista that greeted us. I was overwhelmed with the beauty! We were expecting a beautiful place, but the reality so far surpassed what I was expecting.

There are also canals throughout the city with crystal clear water. This lake was originally formed from a glacier, and France has gone to great lengths to keep it clean. It is known as the cleanest lake in France.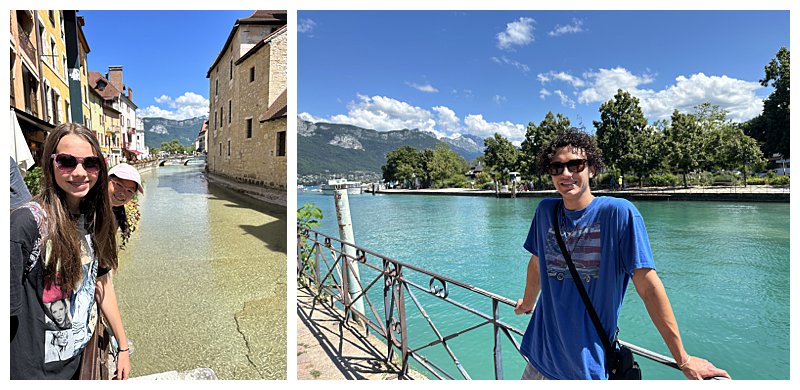 We have had fun filling our days with walking and wandering, biking, swimming, and riding paddle boats. We also have the most gorgeous spot to set up our blankets for picnics and reading. We have had great food from local cafes and markets, and I have found everyone to be very kind when I try out my high school French.

We had a couple of our favorite grandparents join us, and we are loving exploring this area of the world together!

This part of France is absolutely gorgeous. I wish we could stay all summer!